OpenText Information Hub (iHub)
Enhance the value of your applications with embedded analytics
OpenTextTM Information Hub (iHub) is a scalable analytics and data visualization platform that enables IT leaders and their teams to design, deploy, and manage secure, interactive web applications, reports, and dashboards fed by multiple data sources. iHub supports high volumes of users, and its integration APIs enable embedded analytic content in any app, displayed on any device.
In a digital, data-driven world, businesses require analytics-powered applications that deliver insights and contextual information to their employees, customers, and partners, empowering them to take appropriate and effective actions. To stay competitive, companies can use Big Data to understand their customers better, so they can provide better products and services, increase engagement, boost satisfaction, and nurture loyalty. IT wants to deliver high-scale, mobile-ready, self-service analytics applications enhanced with interactive reports and data visualizations. End users want to connect with their personalized information and complete important tasks quickly and on any device.
OpenText Information Hub (iHub) meets your business-critical requirements, providing users with real-time information and data exploration as part of their day-to-day experiences. iHub helps your organization maintain an end-to-end analytics process to access any data source; define HTML5 visuals and data objects; store, manage, and secure XML designs; and embed visualizations via JavaScript and/or REST APIs.
BENEFITS FOR BUSINESS USERS
Personalize and share customized reports, dashboards and data visualizations
Explore data with interactive capabilities (such as drill-downs, sorting, filtering, aggregating, and grouping) and HTML5-based graphs and charts
Work offline in MicrosoftTM Office: Excel, Word, and PowerPoint
Use self-service capabilities to create and customize dashboards and reports quickly, without IT support
BENEFITS FOR TECHNOLOGY TEAMS
Create easy-to-use, interactive, self-service analytics applications
Embed analytics in your existing applications seamlessly and instantly
Deploy content to all users and devices from a single application
Accelerate application time to market and improve user adoption
Connect and combine multiple live data sources and different formats
Eliminate the burden of coding and maintaining infrastructure components by hand
Design, Deploy, and Manage Analytics Applications with a Powerful Integrated Platform
OpenText Analytics Designer, a graphical, drag-and-drop companion design tool and IDE, allows you to build interactive applications, dashboards, and personalized business reports to deploy on iHub.

Aggregate multiple enterprise data sources to present a unified, consistent view of important information to expedite and cultivate smarter decision-making.
Reduce risks and stay future-ready with user- and role-based security rules and enterprise-class scalability and manageability.
Leverage an Enterprise-Class Data Visualization Platform
Generate and deliver data in a variety of formats, including HTML5, PDF, MicrosoftTM Office.
Create content on demand or on a preset schedule.
Deploy on premise or in the Cloud.
Safeguard your data with iHub's layers of built-in security features, or your existing infrastructure to protect iHub content via API integration.
Global locale support and near-linear scalability.
Share Analytics and Reporting with Everyone in Your Organization
Create, customize and share Dashboards – interactive web applications that aggregate multiple data sources and present users with data in a unified, visual, sharable environment.
Allow business users to modify and save reports based on their individual needs and preferences with the Interactive Viewer tool.
Enable self-service analytics and ad hoc reporting for business users with OpenText Analytics Studio.
Design, Deploy and Display Analytic Content with iHub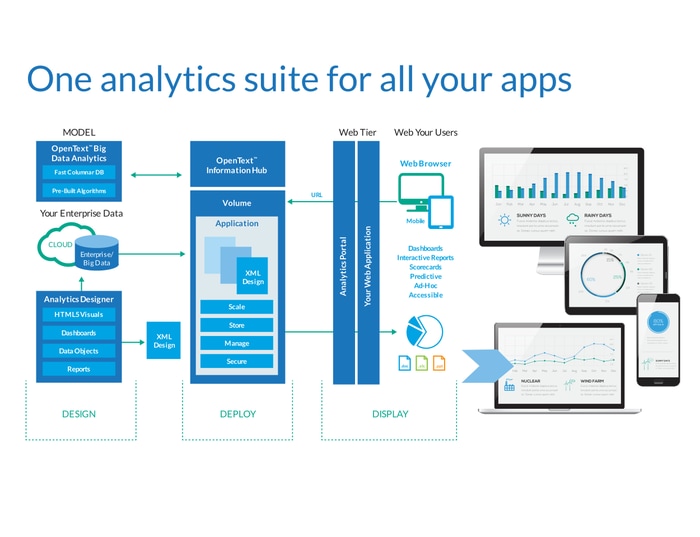 Learn more
Read White Paper: Security in iHub
Get Started with iHub, Trial Edition