OpenText Analytics Designer
Free Product Download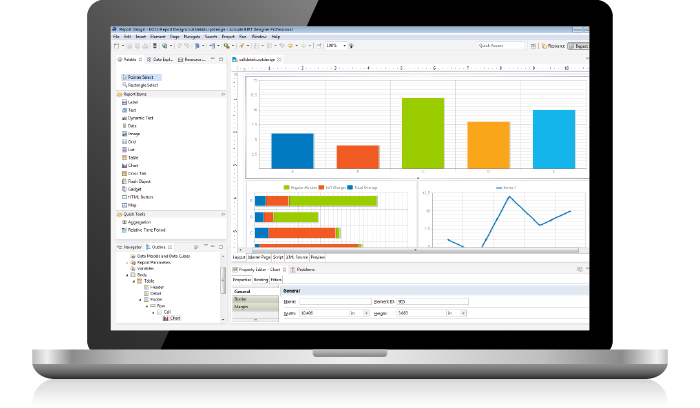 Analytics Designer is the free commercial-grade companion design tool for iHub. The powerful graphical, drag-and-drop reporting software tool equips you with everything you need to create dynamic reports, relevant data visualizations, interactive web applications and customizable dashboards that can easily be embedded into any application. Empower your business users with managed self-service for better decision making.
Product Features
One tool for accessing and preparing data and generating templates, dashboards, reports, and other content for iHub
Publish designed reports securely, via SSL (Secure Sockets Layer), to any iHub instance deployed in the cloud
Create reusable development components such as libraries of style definitions and iHub Data Objects
Powerful data merging capacities in iHub Data Models, including outer and inner joins and predefined measures
Includes Java™ and JavaScript™ scripting capabilities to extend built-in design features
REST Open Data Access (ODA) driver lets developers authenticate and connect to JSON unstructured data through REST directly in the design tool
Includes drivers for Big Data sources such as MongoDB® and Apache Spark®
One-click application deployment to iHub
Integrate and configure granular security features
Patented technology creates accessible PDFs that conform to PDF/UA specifications and comply with WCAG 2.0 Level standards
Build a unified data layer that feeds all your iHub applications
Full integration with Eclipse IDE
Available for Windows (64-bit) or Mac
System Requirements
Operating System
Windows 7 SP1 Professional
Windows 7 Professional
Windows 8.1
Windows Server 2008, 2008 R2
Windows Server 2012, 2012 R2
Mac OS 10.8, 10.10.2, 10.11.4
Minimum Hardware Requirements:
Processor- Windows: x64 compatible, Pentium 1 GHz or higher
RAM: 1GB (2GB recommended)
Free Disk Space: 300 MB
Please fill out the form to download Analytics Designer
File Size: 708 MB
By downloading this software, you state that you have read and agree to the License Agreement.