Integration Solutions & Products
Email - Outlook
Email is the most widely used vehicle for business collaboration and content exchange. Through a tight integration with Microsoft Outlook and Exchange, OpenText solutions place each email in context. Specific information is automatically extracted from ERP, CRM, ECM and other enterprise applications, allowing knowledge workers to make decisions and take actions, all through their familiar Outlook interface.
You can see the OpenText Outlook integration in action by watching a short video from the AIIM 2006 Conference and Expo demonstration held in Philadelphia from May 15-18, 2006.
Email - Extensions
Given the growing importance of controlled email management in achieving and maintaining corporate compliance and good governance, OpenText's OpenText Email Management for Microsoft Exchange, OpenText Email Monitoring for Microsoft ExchangeandOpenText Email Archiving for Microsoft Exchangeare becoming critical extensions to the compliant management of Exchange installations.
Team Collaboration and Document Sharing - SharePoint
Going beyond email, Microsoft SharePoint is rapidly developing as the portal of choice for team collaboration and document sharing. OpenText is building solutions that allow teams to realize SharePoint's ease of use, while seamlessly tying into established business processes and data sources.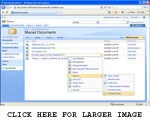 Learn more about theOpenText Content Lifecycle Management Services for Microsoft® Office SharePoint® Server and watch a short video demonstration to see the OpenText SharePoint integration in action. Seamless archiving of content from multiple SharePoint instances is one of its many impressive features.
Microsoft Office 2007
With the advent of Microsoft Office 2007, knowledge workers will be supported by a new interface that includes a 'Ribbon' and contextual tabs in applications such as Word, Excel and PowerPoint, which will make it easier for them to perform their jobs. OpenText solutions for Microsoft Office will further guide knowledge workers through pre-defined business processes such as standard operating procedure (SOP) and corporate policy lifecycle management.
Contact OpenText
For More Information
See how OpenText and Microsoft provide real business products that combine the power of the Microsoft platform with OpenText's deep understanding of the ECM needs of large enterprises with our Extensions for Microsoft®