U.S. Air Force
U.S. Air Force Re-engineers Business Processes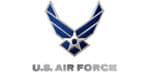 Electronic Systems Squadron eliminates redundancies, speeds response for sky-high ROI with OpenText ProVision, OpenText MBPM
Headquarters officials have been briefed on this initiative and have expressed interest in further expanding the deployment of Lean Six Sigma and OpenText software solutions across other applications within the U.S. Air Force—further enhancing its effectiveness and agility in support of mission-critical operations.
Challenge
Duplication of effort
Lack of metrics
Low value activities consuming resources
No standardized processes or best practices
Product(s)
Value
More than 700% annual ROI
200% increase in value-added automation to enable greater process efficiency, enhanced productivity, reduced costs, improved control and accelerated response time
27% reduction in activities after eliminating redundant, unnecessary, and wasted activities
28% reduction in decision-making points with an infusion of technology and recommended reorganization
About
Throughout its history, the United States Air Force has remained the world's premier air and space power because of its professional airmen, its investment in war fighting technology, and its ability to integrate people and systems together to produce decisive effects. To achieve its mission, the Air Force has a vision of Global Vigilance, Reach, and Power. For more information, visit: www.airforce.com.
Read the Full Story