Tecnimont
Maire Tecnimont is a leading engineering, main contracting and technology licensing group operating worldwide in oil & gas, petrochemicals, power, renewable energy and infrastructure sectors.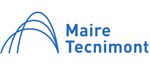 OpenText Documentum for Capital Projects improves document management at Tecnimont, saving time and money. From the Caribbean islands to the Abu Dhabi offshore and from the North Sea cost to the Caspian Sea, documents are managed in a fast, secure and reliable way.
Challenge
Operating multicenter management
Worldwide distribution
Product(s)
Value
Fast, secure and reliable information distribution
Suitable to Client needs
About Tecnimont
Tecnimont is the main operating company of Maire Tecnimont Group working in EPC contracting for oil & gas, petrochemicals, fertilizers and power plants.