Pricing
Conference Fee Schedule
Super Early Bird
(Ends February 28)
Early Bird
(March 1– April 15)
Standard Rate
(April 16 – July 9)
On-Site Rate
(July 10 - July 13)
Conference Registration
US$1,695
US$2,095
US$2,495
US$2,595
Customer Elite Members Conference Registration
US$1,295
US$1,695
US$1,695
US$1,695
Public Sector Registration*
US$995
US$995
US$995
US$995
One Day Conference Registration**
US$1,295
US$1,295
US$1,295
US$1,495
Partner Rate (sponsoring partners)
US$1,695
US$1,695
US$1,695
US$1,695
Partner Rate (non-sponsoring partners)
US$2,095
US$2,095
US$2,095
US$2,095
Partner Expo Pass (pod & booth sponsors only)***
US$995
US$995
US$995
US$995
Guest pass
US$350
US$350
US$350
US$350
Please note that the registration fee must be paid before entering the conference.
*For information on our Special Public Sector rate, email enterpriseworld@opentext.com or contact your account rep for a discount code.
**One-day Registration fees do not include the Thursday Evening Event.
***The Partner Expo Pass includes meals and access to the Expo. It does not include the breakout sessions, general session or the Thursday evening event.
****Guests must be 19 years of age or older.
Training Workshop & Course Fee Schedule
Session


Super Early Bird
(Ends February 28)

Early Bird
(March 1 – April 15)

Standard Rate
(April 16 – July 9)

1-Day Course or Workshop

US$800

US$846

US$995

2-Day Course or Workshop

US$1,600

US$1,692

US$1,990

3-Day Course or Workshop

US$2,400

US$2,538

US$2,985
Refer a Friend or Colleague and you could win 1 of 4 Amazing Prizes!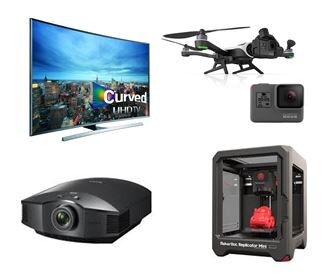 Simply complete this form and refer a friend or colleague to attend Enterprise World 2017. Once they register for the conference you will be entered into the contest to win one of four great prizes.
Prizes & Draw Dates:
Sony Full HD SXRD Home Cinema Projector - January 13, 2017
Samsung 65" LED Curved 4K Ultra HD TV - March 31, 2017
MakerBot Replicator Mini+ 3D Printer - May 30, 2017
GoPro Karma Drone and Hero5 Camera - July 13, 2017
By participating in the contest, you expressly acknowledge and agree to the official Contest Rules.
This contest and OpenText products are not endorsed by Sony, Samsung, MaketBot, or GoPro.
Group Promotions
Register 3, the 4th is free
For groups of 3 or more from one organization, register 3 attendees and the 4th person will receive a free registration.
How to Register a Group
Select the Group Pass Registration option and continue to complete the registration process. On the final page you will be able to add additional registrants, the fourth registration fee will automatically equal $0. If each attendee registers individually or your company has three registrations email enterpriseworld@opentext.com for assistance with receiving the free registration.
Please note: There is no group rate, current registration fee applies.
Substitutions and Cancellations
You may substitute once per each registered attendee. Cancellation policy applies.
If your group falls below three or seven members, it will no longer be eligible for the group promotion.
Benefits for Groups 7 or more
Additional benefits will be offered to organizations that have registered 7 or more attendees for the conference. In addition to the standard conference offering, organizations will be offered the following:
Each attendee will receive a 15% discount off the standard fee for all Enterprise World 2016 pre-conference training workshops and courses.
The opportunity to participate in a 30-minute meeting with an OpenText executive.
Reserved seating in the meal room July 11-13th.
The Enterprise World team will reach out to you regarding your additional benefits. If you have any questions please email enterpriseworld@opentext.com.
*Please note the register 3 for a free pass group promotion is only available to customers or non-sponsoring partners. This group deal cannot be combined with any other discount or promotion. A full conference rate must be paid in full by the first 3 registrants to obtain the 4th free registration.