OpenText Elite™ – Customer Loyalty Program
OpenText Elite™ recognizes the time and support for customers and partners who participate in designated activities that support our mutual success. Points are offered for any reference activity completed and it's our way of recognizing you for your dedication, loyalty and commitment when you share feedback on your innovative deployments and evangelize the use of OpenText solutions at a breakout session. Become an OpenText Elite champion and raise your status in your organization!
Join the program if you are not a member yet.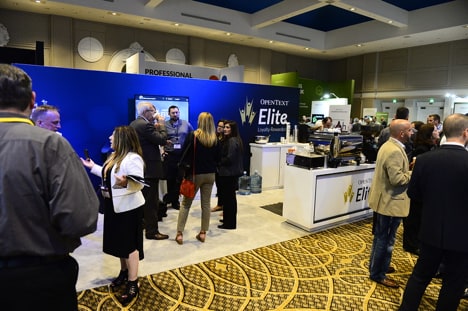 Member Discounts: Don't Miss These Enterprise World Savings!
Discounted Conference Passes
OpenText Elite members register for Enterprise World at a discounted rate of $1695 USD per pass. Use OpenText Elite points to cover all or part of your registration fee – 3790 points are required to cover the full registration fee; or use 1895 points to reduce the pass price to $848.
Training Courses & Workshops
Learn how to maximize the value of your OpenText solutions through usage, implementation, and administration best practices led by experts across all OpenText product suites and platforms. Exclusive OpenText Elite early bird pricing is available now through April 15:
1 Day Course or Workshop: 1692 OT Points
2 Day Course or Workshop: 3384 OT Points
3 Day Course or Workshop: 5076 OT Points
Review the training schedule to select the best courses for your needs or contact training.enterpriseworld@opentext.com for more information.