Refer a Friend or Colleague and you could win 1 of 4 Amazing Prizes!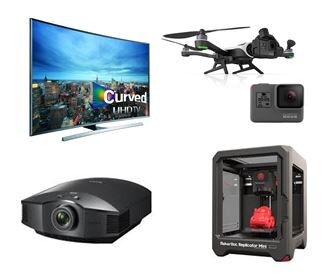 Simply complete this form and refer a friend or colleague to attend Enterprise World 2017. Once they register for the conference you will be entered into the contest to win one of four great prizes.
Prizes & Draw Dates:
Sony Full HD SXRD Home Cinema Projector - January 13, 2017
Samsung 65" LED Curved 4K Ultra HD TV - March 31, 2017
MakerBot Replicator Mini+ 3D Printer - May 30, 2017
GoPro Karma Drone and Hero5 Camera - July 13, 2017
By participating in the contest, you expressly acknowledge and agree to the official Contest Rules.
This contest and OpenText products are not endorsed by Sony, Samsung, MaketBot, or GoPro.
Win an Autographed Wayne Gretzky Jersey!
To enter the Contest take the following steps:
Register for Enterprise World 2017, and write one sentence in the registration form about why you think OpenText is great. When Open Text receives your registration and sentence you'll be automatically entered to win the jersey! Alternatively you can email enterpriseworld@opentext.com with one sentence about what why you think OpenText is great. The winner of the contest will be the entrant with the best sentence, as determined by OpenText.
Register now! Contest closes February 28
Contest Terms and Conditions
OVERVIEW
Enter the OpenText Early Registration Contest ("Contest") and you could win an autographed Wayne Gretzky jersey. Contest starts Monday, February 6, 2017 at 6:00am EST and will end on Tuesday, February 28 at 5:00pm EST, with the winner announced on Friday, March 3, 2017 on the OpenText official Twitter feed and Facebook page and by email. Winners will be selected by OpenText from contestants who have entered the Contest by completing the tasks described in the How to Play section below. A winner can only win once. Winner must claim prize within forty-eight (48) hours of winner being announced by emailing enterpriseworld@opentext.com.
WHO MAY ENTER
OpenText customers who register for Enterprise World 2017 by February 28, 2017 are welcome to participate. OpenText employees and partners are not eligible to participate.
HOW TO PLAY
To enter the Contest take the following steps: (1) register for Enterprise World 2017, and (2) write one sentence in the registration form write one sentence why you think OpenText is great for a chance to win a jersey signed by The Great One - Wayne Gretzky OR email enterpriseworld@opentext.com with one sentence about what why you think OpenText is great. When OpenText receives your registration and sentence you'll be automatically entered to win the prize! OpenText will select the winner based on the sentence that OpenText likes the best.
TERMS AND CONDITIONS
By participating in the Contest, you expressly acknowledge and agree that:
1. OpenText Corporation, its affiliates, subsidiaries, and their respective employees, officers, directors, representatives and agents ("Released Parties") disclaim all express, implied and statutory warranties and all liability whatsoever arising out of the Contest, including liability arising out of mechanical, electrical or other technical difficulties or due to errors which may occur in connection with the Contest or any Contest-related materials. In no event shall Released Parties be liable for direct, indirect, special, consequential, punitive or incidental damages arising out of the Contest.
2. All prizes are provided "AS-IS".
3. Contest is available to legal residents of the United States or Canada who are 21 or older at the time of entry and to legal residents of other countries subject to applicable local laws. The Contest is void where prohibited. The Contest is not available in the Province of Quebec or Puerto Rico. Employees, directors and officers of OpenText Corporation, its affiliates and subsidiaries are not eligible to enter. OpenText reserves the right, in its sole discretion, to disqualify any contestant.
4. Each participant, including all individuals appearing in any Photograph ("Participant"): (i) hereby grants to OpenText, its agents, and employees all rights to exhibit the Photograph in print and electronic form publicly or privately and to market and sell copies; (ii) waives any rights, claims, or interests Participant may have to control the use of the Photograph and the identity or likeness of any individuals therein in whatever media used; (iii) waives any rights to inspect or approve the Photograph or materials incorporating the Photograph, including written copy that may be created and appear in connection therewith; and (iv) understands that there will be no financial or other remuneration, including reimbursement of expenses, for the rights related to the Photograph which are granted to OpenText herein.
5. You acknowledge and agree that OpenText may determine the winners in its sole discretion and you expressly waive any and all rights to dispute OpenText's selection of a winner. The odds of winning may depend on the number of entries.
6. NO PURCHASE NECESSARY. Purchase will not enhance your chance of winning.
7. LIMIT OF ONE (1) ENTRY PER CONTESTANT DURING THE CONTEST. Use of multiple accounts by one individual to enter or participate in the Contest is prohibited and multiple entries in a single day may not be accepted.
8. By participating, you acknowledge and agree that: (i) the Contest is in no way sponsored, endorsed or administered by, or associated with Twitter or Facebook; (ii) you completely release Twitter and Facebook of any and all liability related to or arising out of this Contest; and (iii) you are providing information to OpenText and not to Twitter or Facebook. Any questions, comments or complaints regarding the Contest should be directed to OpenText only.
9. Prize may not be redeemed for cash or credited toward any purchase of any products or services. Prize: One (1) autographed Wayne Gretzy jersey. AVR of prize: approximately 150.00 USD. Any difference between actual costs and ARV will not be awarded. Winners may only win a single Prize. All expenses not stated in these Contest Rules are solely the responsibility of the winner, including, without limitation, service charges or taxes. If prize is returned as non-deliverable, or if a potential winner is found to be ineligible or not in compliance with these Contest Rules, such Prize will be forfeited and, at OpenText's discretion, awarded to an alternate winner. Winners may not substitute, assign, sell or transfer a prize, but OpenText reserves the right, in its sole discretion to substitute a prize with another prize of equal or greater value should the advertised prize become unavailable for any reason. Prizes consist of only those items specifically listed as part of the prize. Electronic prizes are subject to their manufacturer's warranty and/or terms and conditions. The ARV of electronic prizes is subject to price fluctuations in the consumer marketplace. Prizes will not be fulfilled outside the United States and Canada. Taxes on prizes are solely the winner's responsibility.
10. Except where prohibited by law, the Contest and this Agreement shall be governed by the laws of Delaware.
11. Copyright ©2017 OpenText Corporation. OpenText is a trademark or registered trademark of OpenText SA and/or OpenText ULC. The list of trademarks is not exhaustive of other trademarks, registered trademarks, product names, company names, brands and service names mentioned herein are property of OpenText SA or other respective owners. All rights reserved. For more information, visit: http://www.opentext.com/2/global/site-copyright.html_SKU.